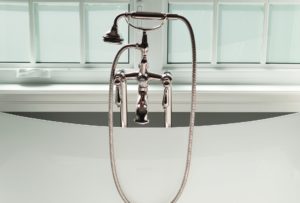 Smart homeowners know how to spot and resolve small plumbing problems before they become major issues. Help your plumbing stay dry and happy with these tips:
Keep an eye out for trouble. When it comes to plumbing, little leaks can lead to big problems. Be alert to signs of impending plumbing failures: Leaking faucets, damp cabinets, rocking toilets or dripping refrigerators all signal problems that need prompt attention.
Repair problems early. A leaking faucet isn't just annoying; the moisture it releases puts wear on sink fixtures and can encourage the growth of mold and mildew. Stay on top of problems to keep the household clean and dry.
Know where to go when trouble happens. Should plumbing fail, will you know how to stop the flood? Locate the main shut-off valve for the home water supply. If it's in a dark, hidden, or hard-to-reach place, gather any tools you'll need for a quick shut-off, and store them nearby. There's nothing like the frustration of a missing flashlight or a misplaced shut-off key when water's pouring down the stairs from a broken pipe.
Shutting off appliances. Similarly, know how to shut off water to sinks, toilets, washing machines and water-using appliances like the refrigerator's icemaker. Should they misbehave, knowing the location of the shut-off valve will save the day and a lot of wet cleanup.
Spot the sewer valve. Finally, hunt down the location of the household's main sewer valve. It's there to provide access to correct a clogged sewer line; don't make the Roto-Rooter man spend pricey labor time looking for it when the toilets overflow.
Learn how to tackle small problems. With a few tools and a little knowledge, most of us can handle small plumbing emergencies. With a plunger, a pipe wrench and a sewer snake in your tool kit, you'll be able to take care of small problems like clogged drains, blocked toilets, stuck valves and dripping faucets. How-to books, home improvement stores and adult education classes can pay for themselves when it's time to call the plumber.
Cold snap: Keep plumbing safe in cold weather
In hard-winter climates, freezing pipes can create a sudden household emergency. Frozen water expands, cracking pipes; when the area thaws, the cracks vent a flood. Plumbing help can be hard to find in a weather crisis, so try these tips:
Prevent frozen pipes before they start. Best defense: insulation. Insulate exposed pipes in a crawl space or in the garage with easy-to-install plastic insulation. It's a peel-and-stick solution. Before winter comes, remove exterior hoses, and apply insulating caps to outdoor fixtures, as a frozen exterior spigot can damage interior pipes. Households with automatic sprinkler systems can clear standing water with compressed air.
When cold weather strikes, go into action. Open the cabinets beneath sinks and bathroom fixtures; warmer household air will help prevent the pipes inside from freezing. Opening taps to a bare trickle keeps water flowing and avoids a frozen blockage.
If pipes do freeze, don't panic. First, shut off the water supply to the house, then open a faucet near the blocked area to vent vapors from the frozen water. If you suspect that pipes in the hot water system are frozen, turn off the hot water heater. Use a hair dryer to warm the frozen pipe (never use an open flame to thaw a pipe), starting at the end of the pipe nearest to the tap. (Don't use a hair dryer in areas of standing water.) You'll know the pipe has begun to thaw when water begins to trickle from the open faucet. When the flow is restored, check the plumbing carefully for cracks or leaks.Call a licensed plumber if your efforts are unsuccessful.
Maintaining water conditioning systems
In hard-water areas, water softeners condition water to remove unwanted minerals. Softened water uses less soap, prevents mineral buildup in pipes and extends the life of appliances and hot water heaters.
Keep them on the job with proper maintenance. Most models use a salt-exchange method that depends on a supply of salt pellets or nuggets. Use the type of salt recommended by your manufacturer for best results. Check the brine tank regularly to be sure salt levels are adequate. The salt should sit above the water line. "Salt bridging" occurs when a crust of salt forms over the top of the water in the brine tank; break it up by adding hot water to the tank or by poking the crust with a broomstick if it occurs.
After a period of use, water softeners will need to regenerate or recharge: The unit will flush collection areas of accumulated mineral particles pulled from hard water. If your unit offers an automatic regeneration scheduling, use it — you'll have soft water automatically. If your unit requires manual recharging, stick carefully to the manufacturer's recommended time intervals.
Reduce household water usage
A more sustainable and cost-efficient household means conserving water, but green living doesn't have to be dusty and dry. Try these strategies to cut water use at home:Load up the dishwasher. Hand-washing dishes may feel authentic, but it's wasteful; automatic dishwashers use less hot water and energy than washing by hand. No need to rinse, either; most modern dishwashers are designed to remove food without need for pre-rinsing.
Go with the (low) flow. Household toilets can be water hogs; replace older models with low-flow alternatives.Save in the shower. Keep showers short and sweet to stay sustainable. You can also save water — and money — by installing a low-flow showerhead, which use up to 50 percent less water than older models.