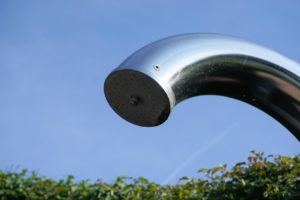 An outdoor shower is a great way to clean yourself off before jumping in the pool. It's also a useful option for rinsing mud off the kids before they come inside. You can even wash the dog in your outdoor shower to avoid making a mess in the bathroom. The addition of an artistic and functional outdoor shower can add beauty and value to your property. If this seems like a good idea for your home, consider the plumbing requirements for installing an outdoor shower.
How to Plumb an Outdoor Shower
Your installation can be straightforward or challenging to set up. It all depends on where you want your outdoor shower to be located and whether the fixture is portable or permanent.
The simplest outdoor showers hook up directly to the garden hose. Simply attach tubing and a durable stainless steel or brass showerhead to the end of the hose, suspend it from an appropriate height, and you have a functional, portable outdoor shower. However, this option is only for the brave since this single-hose setup uses only cold water.
Pedestal or tower showers are another option. These hook up to an outdoor plumbing line and can be placed anywhere in the yard as a semi-portable outdoor shower with both hot and cold water. If your setup features a single, mixed-temperature control, safety codes require you to install an anti-scald valve.
Permanent wall-mounted outdoor showers are what most people want. Ideally, the shower should be located on a plumbing wall where hot and cold water pipes are already in place, or next to a pre-existing hose bib. If you install a hot-water hose bib next to your existing cold-water bib, this makes hook-up easy. Otherwise, you'll need to tap into your hot and cold water supply and run them through the wall, which makes installation more complicated and expensive.
Drainage Considerations
You may envision a natural setting for your outdoor shower that simply drains into the ground or through a bed of stones below your feet. However, this may be a violation of local codes. Many municipalities require outdoor showers to follow building codes, meaning you may need to install drain pipes to carry wastewater away. This helps protect the quality of groundwater and the city's drinking water supply.
Because of potential regulatory requirements, you should check local building codes and work with a professional plumber when installing an outdoor shower. It may be best to put in a fully tiled shower with a built-in drain and enclosed plumbing. This makes the outdoor shower a gorgeous, bona fide feature of your yard.
Winterizing an Outdoor Shower
You enjoy your outdoor shower during the warm months, but once fall arrives, you must prepare the plumbing for winter. A permanent shower installed in a cold-weather climate needs frost- and rust-proof fixtures to help them endure months of bitter temperatures. You should also install shut-off valves in a climate-controlled area of your home so you can shut off the water and drain the outdoor pipes to prevent them from freezing and bursting in the winter.